Having a baby is such an exciting time! There's so much to look forward to. But there's also so much to organise before you welcome your sweet little bundle. Not to mention a budget that you might need to stick to!

But, what if you could get everything you need for your new baby in one convenient location ... and for a great price too?
I've put together 10 must have items you're going to need to welcome your new baby. And the best part, they're all available from Big W at the Bunbury Forum ... and they're all under $200!
1) Car Seat
A car seat is absolutely essential when it comes to keeping baby safe and sound. Having a car seat that takes you from newborn through to 4 is such a great idea because it means you don't have to purchase a new seat for at least 4 years - and that's got to be good for the budget.
Infasecure Neon Car Seat 0-4
I love this seat as not only is it budget friendly, but it ticks all the safety boxes too! I'm using this seat for baby number 3 and we've been able to fit 3 Infasecure seats across the back seat of our car, which can often be an issue with some seat combinations.

The Infasecure Neon Car Seat 0-4 is available at Big W for $199.
2) Baby Bassinet
Choosing the right sleeping arrangement for your baby can be a tough one, especially because you have to choose the right furniture before you've even met your baby! Well, this bassinet really does solve those issues.
The Childcare Alora Bedside Sleeper can convert from a regular stand alone bassinet to a bedside sleeper with an open side to allow you to safely sleep close to your new baby.
As a Mum to two high needs babies, I can definitely vouch for the need to sleep close to your baby, but with peace of mind that they are safe.
This bassinet also has anti-reflux base positioning which means that you can raise their heads a little higher than their legs to help with reflux - an absolute game changer if you have a bub that suffers from this.
The Childcare Alora Bedside Sleeper is available at Big W for just $199.
3) Baby Swing
As much as we want to cuddle our bundles all day long, occasionally, we need to shower or cook dinner. Enter the Ingenuity Poweradapt Portable Swing! This one is such a great swing - it has all the bells and whistles for a great price! It's perfect for when we need to pop bubs down for a little bit, but they still need some comfort.
This stylish baby swing looks right at home in our living area for everyday use, but it's also super easy to move to other rooms as needed. I love having it close at hand when I need a shower but can't settle bubs to sleep first.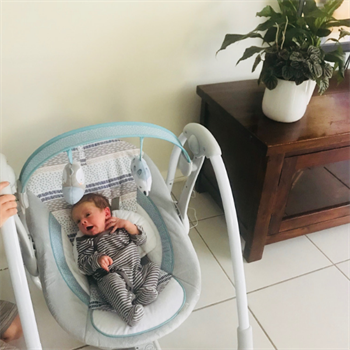 The Ingenuity Poweradapt Portable Swing is available at Big W for just $119.
4) Breastfeeding Pillow
This pillow is an absolute must - whether you're breastfeeding or bottle feeding - and in fact, this versatile cushion can be used in your pregnancy too!
There's no question, when you're sitting in this position for hours on end, you're bound to get uncomfortable. This pillow is an absolute back saver, no matter how you feed your bubba.
And it won't go to waste once bubs is a little bigger. These cushions are perfect to travel with and to help bubs sit up when the time comes. You'll definitely get more use out if than just saving your back while feeding, I pinky swear!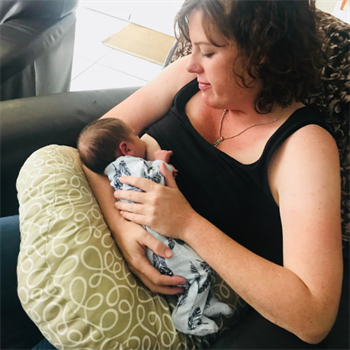 You can purchase the Jolly Jumper Hula Maternity Cushion from Big W for just $40.00.
5) Baby Bedding
Whether you're using a bassinet or cot or even both, you're going to need a few sets of sheets for each. One of the best things you can buy for your baby's sleep area is a waterproof mattress protector - it can save your mattress from all kinds of accidents. I love the Protect-A-Bed Cotton Quilted Fitted Universal Cot Mattress Protector as it will fit all cot mattresses - and you can pick it up at Big W for just $30. With a fantastic range of bassinet and cot sheets starting at just $15, you can afford to stock up on all your baby's bedding essentials!
Hot tip - the best tip I can give you as a Mum of 3 is to make the bassinet and/or cot twice - that way, if baby has a poonami or reflux, it's easy to change the sheets in the middle of the night. You can thank me later!
In fact, this works for all the beds in your house, trust me, it's a lifesaver when sickness hits.
6) Baby Clothes
With so many choices for dressing your baby, it can be so hard to know what you really need - and what you don't. Babies grow so fast, so spending lots of money on teeny tiny baby clothes that they will grow out of faster than we'd like seems silly. I've discovered Dymples Baby Organic Range at Big W and it starts at just $4 a piece! Plus you can get 00000 which is handy for the teeny tiny babies.
I love I was able to buy gender neutral pieces before we even knew the sex of our baby! With pieces that you can mix and match it's a great way to start your new baby's wardrobe.
I grabbed a few key pieces in 0000 to pack in my hospital bag in neutral tones - a little short singlet onesie with pants and a long grow suit too. And when we know the sex of our baby, we can stock up on 000+
They are a great option for gifts too - you can afford to gift a few little outfits at that price!
7) Pram Blankets & Swaddles
You can never have too many blankets and swaddles. Seriously. I love that you can use them to snuggle baby, add a pop of colour to yours and your baby's world.
I couldn't resist this gorgeous Dymples Knitted Pram Blanket - with bold colours that are sure to delight, this is the perfect accessory for your pram. And because it's not "babyish" it's a blanket that can grow with your little one. At just $20 it's a purchase you won't need to break the budget for.
8) Stroller Organiser & Accessories
No matter which pram or stroller you use, from newborn to toddler, having some accessories to increase the organisation of your pram is absolutely essential. The Dreambaby Range at Big W is the perfect way to keep your pram organised! You can grab the Dreambaby Strollerbuddy EZY-Reach Organiser to pimp your pram or stroller for under $30.
Team this Strollerbuddy with a cup holder or even a mobile phone holder for the most organised pram in town.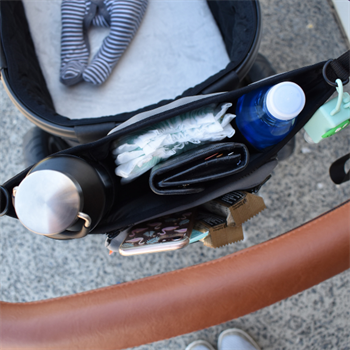 9) Breast Pump
A breast pump can be one of those things you don't need ... until you do! While you might not want to invest in a crazy expensive pump straight up, having a manual pump on hand can be really, well, handy because you don't have the stress of having to leave the house to go and buy one.
Big W has a great range of breast pumps that won't break the bank, in fact they are all under $200!
I love the Phillips Avent Manual Breast Pump. At only $62 it's a great pump to have on hand in case you need to pump without notice. It's also really easy to pop in your suitcase if you're travelling and needs no power which makes it even more convenient.
10) Toys & Teethers
All my babies have absolutely loved the toys in the Lamaze Range from Big W. In fact, our newest bundle will be enjoying playing with the same toys as his or her older brothers - they are such great quality! They've been played with for hours and thrown in the wash way too many times to count, and they are still going strong!
Our favourites are My Friend Emily and Captain Calamari. The boys have also chosen Mitchell Moonwalker to gift to their new baby brother or sister!
I hope that you enjoy shopping for your new baby from these suggestions at Big W at the Bunbury Forum. There's no question that getting everything all in one place makes life much easier, especially if you're getting close to your delivery date!
We'd love to know your favourites when it comes to your baby - feel free to let us know!
Big love,
Kate xx
About the Author
Kate is the founder of South West Mums, coffee connoisseur, FIFO Wife and Mumma to two boys. She loves to explore and write about life in South West WA, motherhood, business and the effects of FIFO on family life. A regular contributor to Kidspot, as well as a guest contributor to many other online publications. She was recently featured by Maggie Dent with her take on delaying Kindergarten in Western Australian schools. You can connect with her on Instagram and Facebook or read more of her blog here.
Prices listed are recommended retail only and are believed to be correct at time of publication. The Bunbury Forum Shopping Centre and South West Mums take no responsibility for pricing discrepancies or stock availability.