Easter is such a wonderful celebration of family and spending quality time together. In our family, quality time goes hand in hand with quality food and of course, lasting memories.

I want to share with you how we are planning to celebrate Easter as a family of five this year!
We will be having a special family lunch on Easter Sunday ... and I want to share our menu with you! As the boys are getting older and understanding more about annual celebrations - and wanting to know why we celebrate - I'm making more of an effort to create those special family traditions for them.
This year, these three dishes will be taking pride of place on our Easter Sunday Table.
Chicken Rolled Roast from Lenard's
For me, nothing says Easter Sunday like an easy, no fuss Easter Sunday roast ... leaving more time to hunt for Easter Eggs! This year, we are making life even easier and sharing a Chicken Rolled Roast from Lenard's – seriously, so easy and something the whole family will enjoy! And it pairs perfectly with my Spring Salad and some 'too easy' garlic roast potatoes!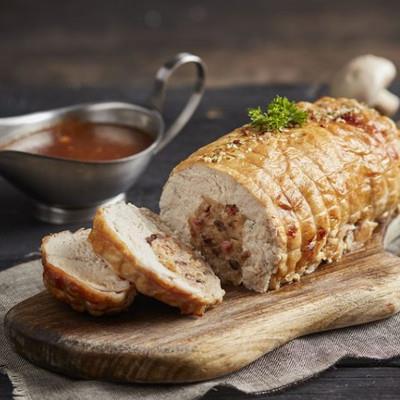 Spring Salad
This salad is an absolute family favourite - so I thought I'd share it with you as it's a fantastic salad to go with roast meat. The danish feta and roasted capsicum combine to make a creamy dressing! It's definitely my go to salad when we have to take a plate too!
Ingredients:
200g bag of baby spinach
2 red capsicum
2 yellow capsicum
1 punnet cherry tomatoes, halved
1/4 cup sultanas
1/2 cup creamy danish feta
good quality EVOO
Method
Cut capsicums into cheeks. Place a piece of baking paper on an oven tray, cover with capsicum cheeks. Drizzle with olive oil, salt and pepper and place into a hot oven until blistered.
In a bowl, add spinach, halved cherry tomatoes and sultanas.
When cooled, slice capsicum cheeks into strips and add to other ingredients. Set the oil from the capsicums aside.
Crumble the danish feta over the top, drizzle with the capsicum oil.
Toss salad all together, drizzle with extra olive oil if required.
This salad is easy to prepare ahead of time – if you are wanting to prepare it up to a day in advance, leave the spinach aside and add just before serving to ensure it stays vibrant.


If you want to make this salad in a hurry, grab a jar of pre roasted red peppers.
Magical Easter Egg Slice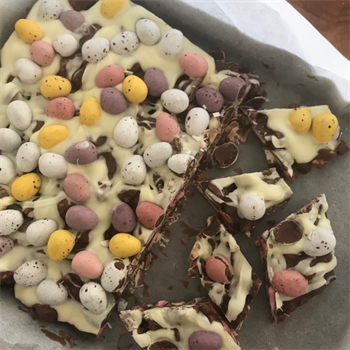 This slice is so versatile. It's simple to make (even with the kids in the kitchen) and not only makes a super simple Easter dessert, but can also be gift wrapped to make delicious gifts for family and friends.
Ingredients:
290g Milk Chocolate Melts
290g White Chocolate Melts
2 heaped tbsp. crunchy peanut butter (or smooth if you prefer)
150g bag mini marshmallows (pink & white if you can find them)
2 bags of Cadbury Mini Eggs or M&M Crispy Shell Easter Eggs
Method:
Melt the milk chocolate melts and peanut butter together in a bowl.
Melt the white chocolate melts in a separate bowl.
Mix the mini marshmallows through the milk chocolate and peanut butter mixture.
Pour the marshmallow and chocolate mixture into a slice pan lined with baking paper. Swirl the white chocolate through the milk chocolate mixture.
Top the slice with the bags of mini easter eggs to create the ultimate Easter slice.
If you love peanuts, you could also add peanuts to the Easter Eggs as a topping too!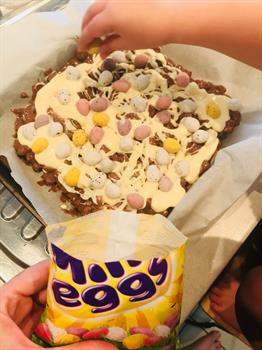 Decorating our Table
We will be decorating the table with some gorgeous decorations we found at Big W. I had so much fun finding all these goodies to create a colourful Easter for the boys.
These gorgeous hanging decorations were just $3 a pack and have created the most enchanting "Easter Tree" to sit at the centre of our table.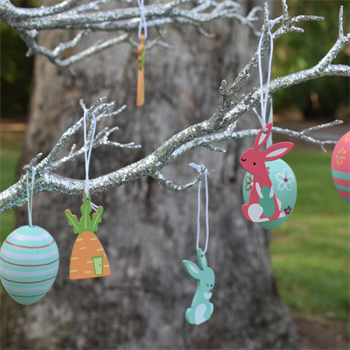 I've also picked up this rustic Carrot Bunting which will adorn our walls - such a great way to add festivity and it can be kept for next year too!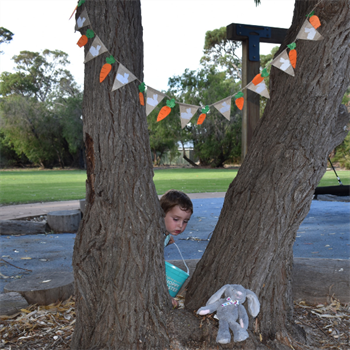 Easter Egg Hunt

We will also be having an Easter Egg Hunt! I like to keep things super simple, with a few magical little twists!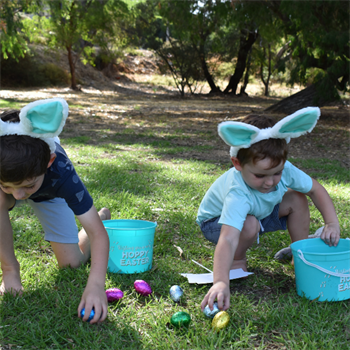 I picked up these fantastic plastic Easter Hunt Buckets for just $2 each from Big W! I love that these buckets are big enough for all their goodies on Easter morning ... and we can use them for sandpit play later on too!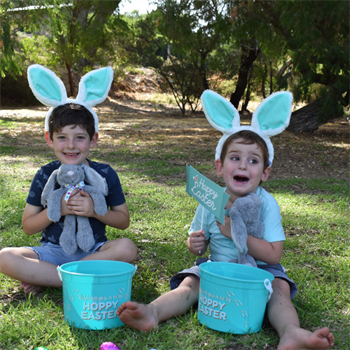 The bunny ears came with gorgeous little tails for just $3 a pack and the Bunny Soft Toys were just $5 each. So much magic for just a few dollars!
I also picked up this lovely book, featuring Western Australia! I'm in love with it and I know my boys are going to enjoy reading it together. It will become part of our annual Easter Traditions as they grow up. I love having things that we can put away and bring out each year to celebrate and this will be a book that only comes out especially for Easter celebrations! I found this book for just $8 at Big W.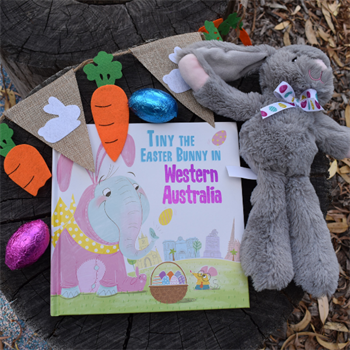 Kate's Easy Tips for Creating the Best Easter Egg Hunt Ever!
Why not give the kids a new pair of pyjamas to wear to bed so they wake up in special pyjamas, ready for their Easter Egg hunt.
The night before Easter Sunday, get the kids to sprinkle jelly beans on the lawn. Once they're asleep, "plant" lollipops into the lawn so that it looks like they grew from the jelly beans.
Why not give each child their own colour Easter Eggs to find - this can stop arguments and ensure each child gets to same amount of eggs.
Think about not just hiding chocolate, but also little toy surprises too!
Turn your Easter Egg Hunt into a Treasure Hunt - this is great for older children who can read the clues.
Wishing you and your family a safe and happy Easter!
Big love,
Kate xx
About the Author

Kate is the founder of South West Mums, coffee connoisseur, FIFO Wife and Mumma to two boys. She loves to explore and write about life in South West WA, motherhood, business and the effects of FIFO on family life. A regular contributor to Kidspot, as well as a guest contributor to many other online publications. She was recently featured by Maggie Dent with her take on delaying Kindergarten in Western Australian schools. You can connect with her on Instagram and Facebook or read more of her blog here.
Prices listed are recommended retail only and are believed to be correct at time of publication. The Bunbury Forum Shopping Centre and South West Mums take no responsibility for pricing discrepancies or stock availability.