We are thrilled to announce the winners of the first Choose Respect Champions.
These wonderful nominees received their awards on Monday 15th July and were all incredibly honoured to have been nominated.
Congratulations to Tianna, James and Mavryk.
Choose Respect Champion Winners for June: Mavryk, Tianna and James with Bunbury Forum Marketing Manager Ashley Hastie and Choose Respect Chair Peter Rigden
TIANNA: Tianna spends a lot of her time supporting her dance teachers and lends a helping hand with the young dance students in her dance school. Recently her dance teacher, Tamara had a fall and broke her leg in multiple places. Tianna offered her time to come to class early and stay late to help with studio duties and caring for other students while Tamara was away and has continued to display her helpfulness and caring heart with all involved. Tianna is a wonderful role model and a great example of choosing to treat with care and consideration.
JAMES: At such a young age, James already shows a strong sense of responsibility and respect by regularly being concerned about litter and our environment. He sometimes picks up rubbish in his lunch break at his school and often asks his Mum to take him to the beach so he can pick up rubbish, so it doesn't go into the ocean. Recently he was shopping with his family at the Bunbury Forum and seeing some rubbish in the car park, stopped to collect it before he continued on his day.
MAVRYK: Mavryk is an outstanding example of making a conscious choice to consider others and is not only showing care, but is also taking action to help. Mavryk was so concerned about the homeless, that he asked his Mum if they could buy them all a house. When that wasn't possible, Mavryk then decided another way he could help was to collect blankets and offer it to people who appeared to have no home to go to. He collected all he could from his Mum and extended family. Each Tuesday, Mavryk, supported by his Mum, goes into the CBD and offers blankets. He not only gives practical help to those in need, but he shows them what a caring community looks like. Mavryk has also learnt that by giving and caring for others, it makes him feel great!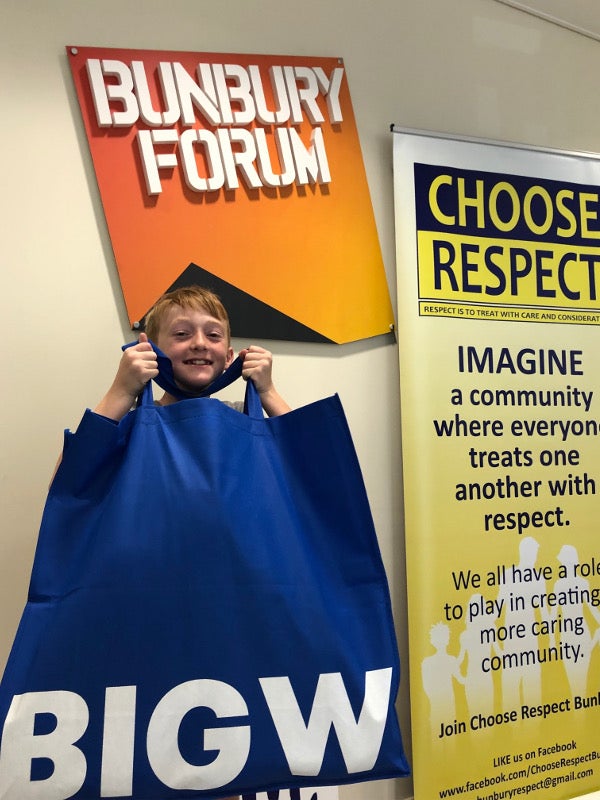 Mavryk received a donation of blankets from Big W to assist with his work
If you'd like to nominate a young person who is doing good in our community, collect a nomination form HERE